Evidence of the upcoming The Legend of Zelda: Breath of the Wild 2 has reportedly been spotted online as reported by Nintendo Life.
Nintendo announced The Legend of Zelda: Breath of the Wild 2 in 2019, but the developer has been very quiet about the long-awaited sequel of the adventure game. WT&T, a French retailer known for leaking The Witcher 3 ahead of its official announcement has leaked that a special The Legend of Zelda: Breath of the Wild 2 – Collector's Edition is coming for €69.99. A standard edtition is also listed, both versions have a release date of December 31, 2020, it's speculated that the alleged launch is a placeholder, but might confirm that Nintendo originally planned to release the game on 2020.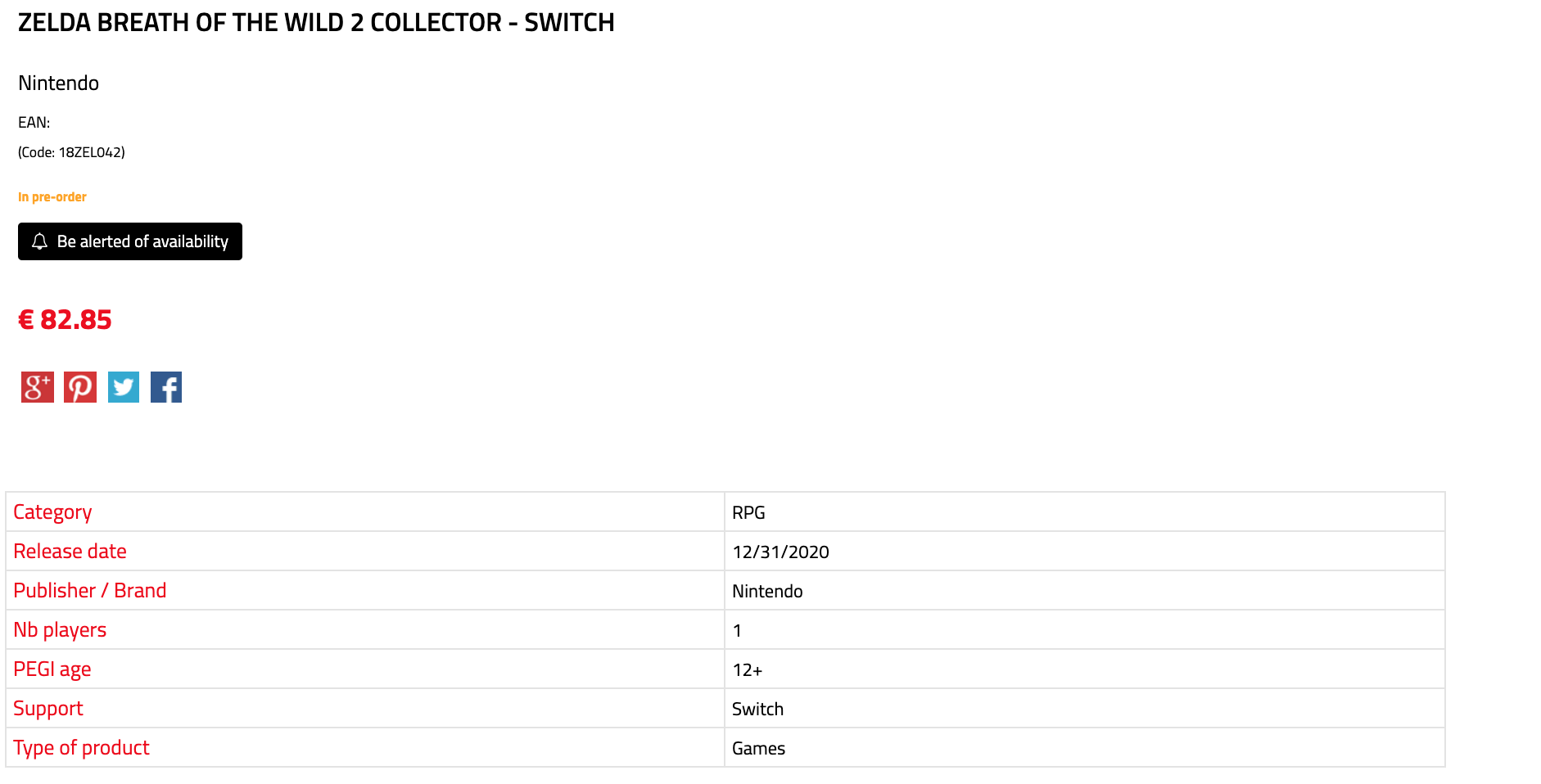 Interestingly, Amazon UK listed a Switch edition of The Legend of Zelda: Skyward Sword, it is being speculated that Zelda will join the rumored 35th anniversary celebration of the Mario franchise. In 2021 Zelda and Link turn 35 too, is expected that Nintendo also releases more remakes of Zelda titles.
Series producer Eiji Aonuma revealed why is Breath of the Wild receiving a sequel, the producer suggest that the development team had too many good ideas for DLC, and Nintendo decided to create a sequel to deliver all those ideas in a more efficient way.
"When we released the DLC for Breath of the Wild, we realized that this is a great way to add more elements to the same world. But when it comes down to technical things, DLC is pretty much data–you're adding data to a preexisting title," Aonuma added. "And so when we wanted to add bigger changes, DLC is not enough, and that's why we thought maybe a sequel would be a good fit."
Source: VideoGamer– Legend of Zelda: Breath of the Wild 2: What's Possibly Going On With It
Stay tuned at Gaming Instincts via Twitter, YouTube, and Facebook for more gaming news.