Skybound Games announced that the physical edition of the feline-focused adventure game STRAY will launch on September 20 for PlayStation 5. The standard retail edition will include six full-color art cards, while the iam8bit Exclusive Edition will include a premium matte black sleeve, a 14.4 by 24 inches poster of the first teaser art for STRAY, six premium art cards, and a fuzzy chenille patch of the protagonist cat. Pre-orders for the standard edition will go live today at retailers worldwide, while pre-orders for the iam8bit Exclusive Edition alongside the vinyl of the game's original soundtrack. Stray will launch digitally on July 19 for PlayStation 5, PlayStation 4, and PC via Steam.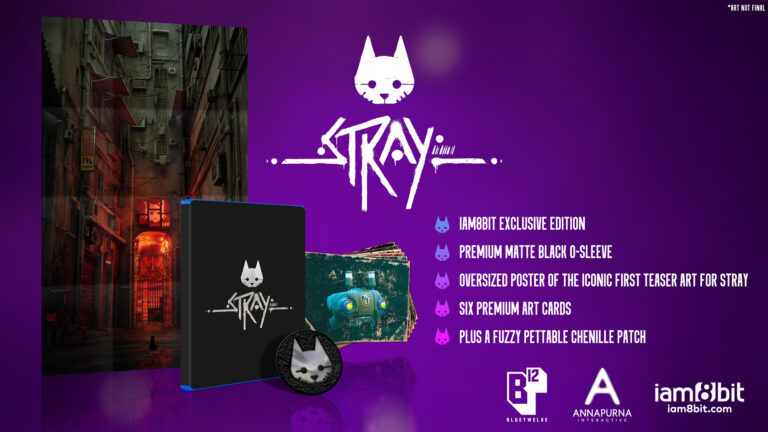 The game's details via the publisher can be seen below:
Lost, alone and separated from family, a stray cat must untangle an ancient mystery to escape a long-forgotten city.

STRAY is a third-person cat adventure game set amidst the detailed neon-lit alleys of a decaying cybercity and the murky environments of its seedy underbelly. Roam surroundings high and low, defend against unforeseen threats and solve the mysteries of this unwelcoming place inhabited by nothing but unassuming droids and dangerous creatures.

See the world through the eyes of a stray and interact with the environment in playful ways. Be stealthy, nimble, silly, and sometimes as annoying as possible with the strange inhabitants of this foreign world.

Along the way, the cat befriends a small flying drone, known only as B12. With the help of this newfound companion, the duo try to find a way out.

STRAY is developed by BlueTwelve Studio, a small team from south of France mostly made of cats and a handful of humans.
Stay tuned at Gaming Instincts via Twitter, YouTube, Instagram, and Facebook for more gaming news.